---
Where is your office and how do I find it?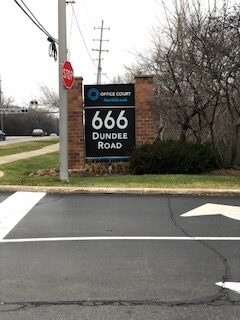 My office is in Northbrook at 666 Dundee Rd., a one-story brick building complex between Skokie Blvd. on the east and Shermer Rd. on the west. The entrance to the complex is on the north side of Dundee between a traffic light (Midway Rd.) on the east and a railroad crossing on the west.
My suite is 704. It's on the left and you'll see signs to it as you drive through the complex. Park anywhere nearby and follow the sidewalk next to the sign reading "601-704". Keep to the right, and you'll soon arrive at my suite, which also is on the right. I look forward to seeing you there!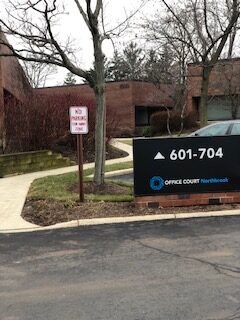 What are the age ranges of people you work with in individual counseling?
In individual counseling I work with adults of all ages and with adolescents 14 years of age and up.
How long does a therapy session last?
An individual therapy session typically lasts 55-60 minutes. A couple or family therapy session is generally 60-70 minutes in length. In both types of therapy, initial sessions are usually a bit longer.
A particular type of therapy called Discernment Counseling has its own session-length protocols. If you are contacting me for this kind of counseling, we'll discuss the protocols by phone before we meet.
Are you in-network with any insurance companies? Are you a Medicare provider?
I'm in-network with BCBS PPO. (Note: if your Blue Cross Blue Shield Plan is Blue Choice PPO, I'm considered out of network.)
I am not a Medicare provider. This means that if Medicare is your primary insurance plan, my services will not be covered, even if your supplemental insurance plan is with Blue Cross Blue Shield.
If you want to work with me and use your insurance benefits, but your insurance plan is not BCBS PPO, then check with your insurance provider to see if your plan includes out-of-network benefits. Many plans offer them. In most cases I can save you the work of filing your own claims by doing so myself, electronically, on your behalf. For more information about this, please contact me.
What forms of payment do you accept?
I accept checks, cash, and all major credit cards. You may also use an HSA account to pay for my services.